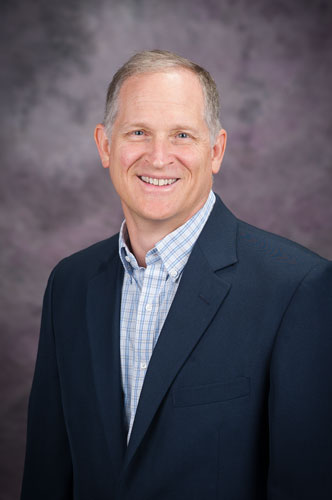 Culbertson named dean of K-State's College of Arts and Sciences
The chemistry is right between Chris Culbertson and the College of Arts and Sciences: Following a national search, Culbertson has been named dean of Kansas State University's largest college, effective May 14.
Culbertson has served as interim dean for the past year and has also served as professor of chemistry and associate dean of research and graduate studies in the college. He was appointed to the post by Charles Taber, provost and executive vice president.
As dean, Culbertson will serve as the chief academic and administrative officer for the college. He'll lead all academic programs, promote high-quality student experiences, support effective academic advising and build continued excellence and growth in research and engagement. He will also support recruitment and retention work, address budget planning and management, collaborate with university and community partners on interdisciplinary and cooperative initiatives, and lead the college in strategic planning.
Read more
https://www.k-state.edu/media/newsreleases/2023-05/Culbertson-named-College-of-Arts-and-Sciences-dean51123.html
Y
Read more
I am able to draw a straight line from my experiences at K-State through the professional path I currently enjoy. My major was journalism... This is where I first learned to write, and that skill has been an integral part ever since of who I am and what I do.
Dan Biles
As a small-town kid growing up 90 miles from Manhattan, I longed to see the world, so when I stepped into my first anthropology class at K-State I knew it was the right major for me... Now I am an anthropology professor at the place that inspired it all and I get to travel the world looking for great untold stories.
Michael Wesch
Upcoming events