Diversity in the College
The College of Arts and Sciences offers programing, scholarships and resources for students and faculty in order to foster, encourage and promote diversity. Led by our diversity committee, we take great care in helping all students thrive while in the college and to build a foundation as they prepare to enter the professional world. History of the committee.
View the College of Arts and Sciences' Antiracist Statement
Working Definition of Diversity
We understand diversity as including, but not limited to, race, ethnicity, gender, sexual orientation, language, culture, religion, mental and physical ability, age, socio-economic status, citizenship status and immigration status.
Understanding of Diversity
The College of Arts and Sciences seeks to foster diversity in a commitment to recruit, retain and resource peoples historically under-represented in university education in the United States. Fostering diversity goes beyond increasing the numbers of under-represented students, faculty and staff. It also includes a commitment to substantial curricular offerings, resources, and programming that foregrounds the knowledges, perspectives, cultures, and histories of marginalized communities. A truly diverse college culture and structure will benefit all members of the university community to better serve and excel in an increasingly global and multicultural world.
View the Recommendations for Action from the College of Arts and Sciences Diversity Committee.
The College of Arts and Sciences Diversity Lecture Series featured Dr. Edmund February on October 24, 2022. February is a prominent botanist, human rights advocate and mountain climber from Cape Town, South Africa. The lecture, "From Apartheid to diversity in South Africa," addressed February's experience with education, class and power during and after the Apartheid in South Africa.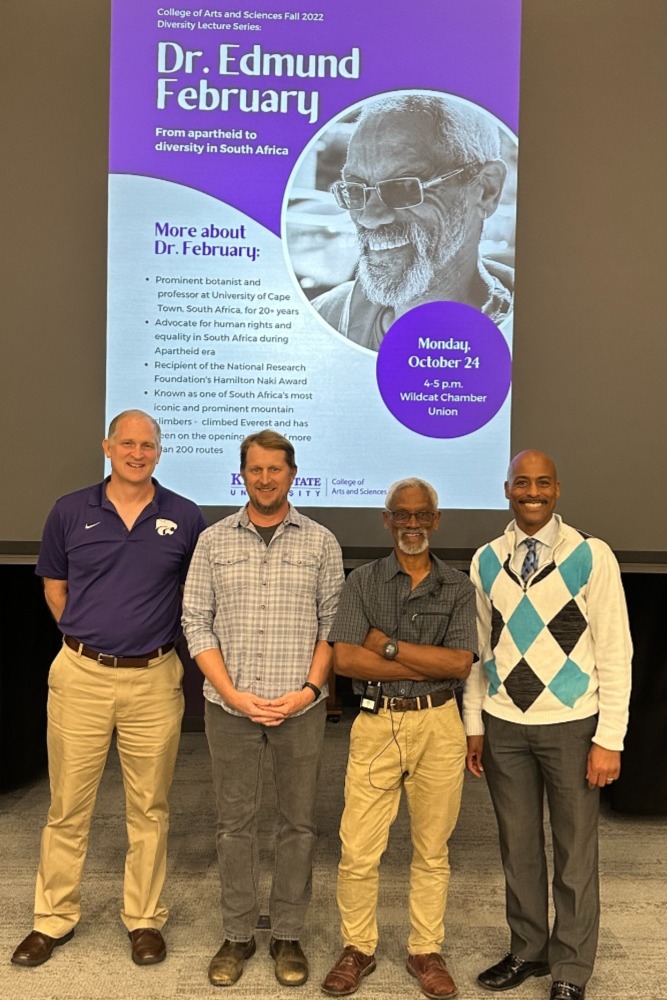 From left: Dean Chris Culbertson, Dr. Jesse Nippert, Dr. Edmund February and Assistant Dean Kimathi Choma.
In January, College of Arts and Sciences faculty members had powerful discussions regarding teaching and research as it pertains to the pressing social issues of today and the legacy of activism at Kansas State University and beyond.
Professor Douglas K. Benson Award
The Professor Douglas K. Benson Award is a $500 to $1,000 student scholarship for the 2022-2023 academic year. Eligible candidates are currently enrolled full-time students in the College of Arts and Sciences with a 2.0 GPA or higher. The scholarship recipient must attend K-State as an undergraduate student during the 2022-2023 academic year and have made contributions to Diversity, Equity, Inclusion, and Belonging (DEIB) on campus. Students who wish to apply for this award must submit: a resume that includes contact information, degree pursued, cumulative GPA, year in school, and examples of scholarships, awards, activities, and work experience. Students are also required to submit a form of expression (essay, picture, poem, drawing, dance, music, etc.) representing DEIB. Additionally, students are required to submit a 150-200 word summary of their appreciation for DEIB in a global world. The deadline for applications is Friday, March 17 at 4 pm. For a biography on Professor Benson and full application details, please click here (pdf).
Davids-Dunham Award
The College of Arts and Sciences Diversity Committee uses the Davids-Dunham Award to celebrate faculty members who identify with underrepresented groups for their excellence in scholarship and faculty members who through their scholastic efforts support diversity at Kansas State University. The Davids-Dunham Award is named for Sharice Davids and Ann Dunham, both of whom represent Kansas, have contributed to a discipline included in the College of Arts and Sciences, and have made tremendous contributions to our society. Their work embodies the spirit of the candidates who win this award.
Contact Us
The Diversity Committee wants to hear your comments or suggestions as we work towards achieving the goals we have lined up. If you see a broken link, know of an additional resource or want more information about us, do not hesitate to contact us.
E-mail: cas-diversity@k-state.edu
College of Arts and Sciences
107 Calvin Hall
Manhattan, KS 66502-1005
Phone: 785-532-6904
Fax: 785-532-7004