Diversity, equity, inclusion and belonging
Diversity in the College
The College of Arts and Sciences offers programming, scholarships and resources for students and faculty to foster, encourage and promote diversity. Led by our Diversity Committee, we take great care to help all students thrive and build a foundation to enter the professional world.
Definition of Diversity, Equity, Inclusion and Belonging
The Association of Public and Land Grant Universitieas (APLU) recognizes that diversity is complex and intersectional and includes a wide range of racial, ethnic, sexual, and gender identities, as well as economic and geographic backgrounds, physical abilities, life experiences, political, religious, and personal beliefs. To that end, APLU defines diversity, equity, inclusion, and belonging as follows:
Diversity is the presence and representation of differences that enrich the community and
workplace. Differences include, but are not limited to identity, culture, background, abilities,
opinions, and experiences.
Equity, and equity-mindedness, is the action of ensuring access, resources, and opportunities
through removing systemic barriers, particularly for historically underrepresented groups.
Inclusion is the intentional action of valuing everyone, regardless of background, beliefs, or
identities. This includes creating a culture and community where everyone, especially those
from historically underrepresented groups, have access to resources, voices are heard, and
contributions are valued.
Belonging is the feeling individuals, particularly those from historically underrepresented groups who have experienced exclusion in the past, have in places that have intentionally actionized
diversity, equity, and inclusion to create a culture that supports the feeling of security,
acceptance, and value.
Understanding of Diversity
The College of Arts and Sciences seeks to foster diversity and is commited to recruiting, retaining and providing resources for members of populations that have been under-represented in university education in the U.S. This goes beyond increasing the numbers of under-represented students, faculty and staff. We are committed to providing substantial curricular offerings, resources and programming that foregrounds the knowledge, perspectives, cultures and histories of marginalized communities. A truly diverse college culture and structure benefits all members of the university community and better serves our students so they can excel in an increasingly global and multicultural world.
View the Recommendations for Action from the College of Arts and Sciences Diversity Committee.
Diversity Lecture Series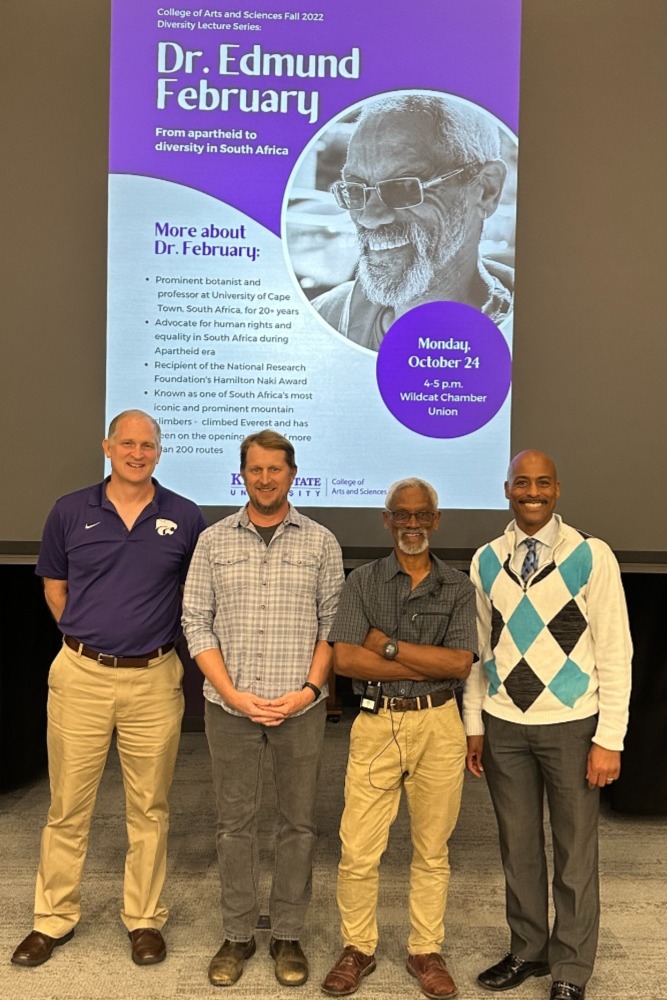 The College of Arts and Sciences Diversity Lecture Series featured Dr. Edmund February on October 24, 2022. Dr. February is a prominent botanist, human rights advocate and mountain climber from Cape Town, South Africa. The lecture, "From Apartheid to diversity in South Africa," addressed February's experience with education, class and power during and after the Apartheid in South Africa.
Civil Rights Teach-In
In January, the College of Arts and Sciences and its partners host presentations that spark powerful discussions regarding teaching and research as it pertains to current social issues and the legacy of activism at K-State and beyond.
Professor Douglas K. Benson Award
The Professor Douglas K. Benson Award is a $500 to $1,000 student scholarship for the 2022-2023 academic year. Applicants must be enrolled full-time in the College of Arts and Sciences, have at least a 2.0 GPA, attend K-State as an undergraduate student during the 2022-2023 academic year and have made contributions to diversity, equity, inclusion and belonging (DEIB) on campus. To apply, students must submit: 1) a resume that includes contact information, degree pursued, cumulative GPA, year in school, and examples of scholarships, awards, activities, and work experience; 2) a form of expression (essay, picture, poem, drawing, dance, music, etc.) representing DEIB; and 3) a 150-200 word summary of their appreciation for DEIB in a global world. The application deadline is 4 p.m. Friday, March 17. To learn more, download Professor Benson's biography (pdf) and full application details (pdf).
Davids-Dunham Award
The College of Arts and Sciences Diversity Committee uses the Davids-Dunham Award to celebrate faculty members who identify with underrepresented groups for their excellence in scholarship, and who, through their scholastic efforts, support diversity at K-State. The Davids-Dunham Award is named for Sharice Davids and Ann Dunham, both of whom represent Kansas, have contributed to a discipline included in the College of Arts and Sciences, and have made tremendous contributions to our society. Their work embodies the spirit of this award.
Contact Us
The Diversity Committee wants to hear your comments or suggestions as we work towards achieving our goals. If you see a broken link, know of an additional resource or want more information about us, do not hesitate to contact us.
E-mail: cas-diversity@k-state.edu
College of Arts and Sciences
107 Calvin Hall
Manhattan, KS 66502-1005
Phone: 785-532-6904
Fax: 785-532-7004