Undergraduate Research Opportunities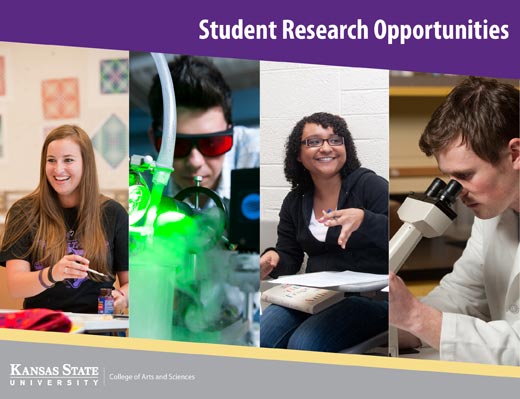 Work closely with a faculty member to hone your research interests and make a contribution to the field. Then network with researchers at conferences to present your findings. Your hard work will help you stand out when searching for a career or applying to graduate or professional school.
Undergraduate students enrolled in any major in the College of Arts and Sciences are invited to apply for research awards to conduct projects with faculty members in the college. Faculty members from departments outside the college may serve as co-mentors on projects, but the primary mentor must have a faculty appointment in the College of Arts and Sciences. Projects will be one summer or one semester in length.
Students selected for research awards will receive a scholarship award of $1,000. This award will be applied to the student's financial aid package. If the research project is not successfully completed, the award must be refunded.
Application deadlines
Spring: November 13, 2020
Summer: March 26, 2021
Fall: May 14, 2021
Scholarship Requirements
Award recipients will enroll in DAS 400, Undergraduate Research in Arts and Sciences, for zero to three credit hours. A typical research project will include at least 100 hours working on the project. This works out to be approximately ten hours of research per week for fifteen weeks in the summer, or six to eight hours of research per week for fifteen weeks in the spring or fall. These projects will be direct hands-on research, scholarly or discovery experiences — not lab support or readings. Students selected for the internships will be required to submit a final report.
Research awards can be renewed once; however, preference will be given in the review process to proposals from students who have not previously had awards. Preference also will be given to students who will not receive concurrent funding for the same project from other sources such as Developing Scholars, Johnson Cancer Center, K-INBRE, OURCI, or McNair Scholars. Students are encouraged to seek funding from such sources to continue projects initiated under the Arts and Sciences Undergraduate Research Scholars program.
Instructions for Submitting Final Research Scholarship Reports
If selected for the scholarship, you will be required to submit a report. This is in the form of an Abstract (required) suitable for public release, including posting on the web. The abstract should be one or two paragraphs in length, accessible to an educated layperson, such as a member of congress. The abstract should describe the topic of your investigation, and the reason this research or scholarly activity is important. It should include a description of the specific question you are trying to address, your approach, and what you discovered or learned from the project (or progress you made toward that goal). You must ask your advisor to review your abstract, and make sure it is suitable for posting on a web page. You may also include one or two figures (optional) with captions that could also be posted to the web.
The abstract must be submitted as a PDF file to artsciugo@ksu.edu, in the format demonstrated below:
Abstracts are due approximately one week after the end of the semester in which the student receives the award.
Abstract Due Dates
Spring Award: May 20
Summer Award: August 15
Fall Award: December 20
---
Award Recipients
Fall 2019
Huntington Bagby, mentored by Amber Neely, Anthropology


Lindsay Chassay, Psychological Sciences, mentored by Kristen Kremer, Social Work


Sara Wallace, mentored by Gregory Finnigan, Biochemistry


Brock Brethour, mentored by Rollie Clem, Biology


Megan Campbell, mentored by Lorena Passarelli, Biology


Nissi Costello, mentored by Katsura Asano, Biology


Hannah Coggeshall, mentored by Jocelyn McDonald, Biology


Graham Mathews, mentored by Kathrin Schrick, Biology


Abdulrahman Naeem, mentored by Ruth Welti, Biology


Abigail Parker, Biochemistry, mentored by Ruth Welti, Biology


Seth Peery, Biochemistry, mentored by Kathrin Schrick, Biology


Abigail Phelps, mentored by Rollie Clem, Biology


Addison Watrous, mentored by Rollie Clem, Biology


Paige Wiebe, mentored by Loretta Johnson, Biology


Hawa Dembele, Biochemistry, mentored by Ryan Rafferty, Chemistry


Joseph Hammer, mentored by Stefan Bossmann, Chemistry


Eunice Lalunio, Anthropology, mentored by Pamela Kempton, Geology


Matthew Von, Political Science, mentored by Raluca Cozma, Journalism and Mass Communications


Cade Losey, English, mentored by Benjamin McCloskey, Modern Languages


Ceslie Parker-Waller, mentored by Julie Pentz, MTD


Olivia Roberts, Open Option, mentored by Julie Pentz, MTD


Erica Beebe, Anthropology, mentored by Laurie Johnson, Political Science


Natalie Jabben, Philosophy and Political Science, mentored by Laurie Johnson, Political Science


Natalie Pittman, mentored by Nathaniel Birkhead, Political Science


Emily Brun, mentored by Charles Pickens, Psychological Science


Samantha Hall, mentored by Donald Saucier, Psychological Science


Kathryn Hutson, mentored by Donald Saucier, Psychological Science


Tessa Maze, Biology, mentored by Bethany Plakke, Psychological Science
Summer 2019
Spring 2019
Fall 2018
Summer 2018
Spring 2018
Fall 2017
*Indicates student abstract cannot be published due to pending patents