Dean's Welcome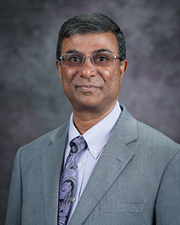 Hi, my name is Amit Chakrabarti, and I serve as Dean of the College of Arts and Sciences at K-State. I encourage you to look through our website and learn more about the College of Arts and Sciences, because I know you could have an amazing experience here at K-State.
The College of Arts and Sciences is a great place to launch your future. With more than 35 majors, 34 minors, and 10 certificates and secondary majors, we know you'll find your passion here. Are you interested in the health field? We have designated pre-health advisors to help you find the right track and prepare you for the field. Want to get a leg-up in the tech world? Our Integrated Computer Sciences program could be the perfect place for you. Not sure what you want to study? We have dedicated, caring Open Option advisors who will work closely with you to help find your path.
Across the college, we have incredible advisors who will work with you one-on-one to help you shape your K-State experience. You will also have the opportunity to learn from world-class faculty members. Not only will you learn from these experts in the classroom, but you will also have the opportunity to participate in undergraduate research with these award-winning folks.
It's been an unusual year, but we have learned a great deal over the course of it. We are absolutely prepared to give you a top-notch education in a safe environment. While we may not know exactly what the world is going to look like in a few months, we do know that we've put in a lot of hard work to make sure our students have a great experience—whether that's virtually or in-person. Recent developments in the fight against COVID-19 have us feeling hopeful about Fall 2021.
I truly believe you can forge a great path here in our college at K-State. The College of Arts and Sciences prepares its students for a diverse and ever-changing world by equipping them with a variety of skill sets that pave the way to a bright future. I hope you will learn more about us and apply to attend our college, because it really is a great place to be!
Sincerely,
Dr. Amit Chakrabarti, Dean
Dean's Office staff
/about/dean-office/dean-office.html
Y
purple
medium-basic
Dean's Office staff
Department updates
/about/dean-office/department-updates.html
Y
purple
medium-basic
Department updates
About the dean
Amit Chakrabarti was named dean of the College of Arts & Sciences, Kansas State University's largest college, in April 2017.
Dean Chakrabarti has a doctorate in physics from the University of Minnesota, and master's and bachelor's degrees in physics from the University of Calcutta, India.Dean Chakrabarti has collaborated with several K-State faculty on projects that have been funded by the K-State Targeted Excellence Program, NASA and the National Science Foundation. One of his research collaborations is with Jim Gunton, a professor at Lehigh University, to understand how insulin crystals form from aqueous solutions. Insulin is an important drug in the treatment of diabetes; understanding the process of microcrystal formation is important for developing new methods of drug delivery. Chakrabarti also is working on fiber formation in sickle cell hemoglobin, the mutant form of hemoglobin responsible for sickle cell anemia.