Letters Alumni Magazine
Summer 2015
Why is having an international experience so critical? More than any other time in history, we are exposed almost immediately to events happening overseas; we experience languages and cultures everywhere we turn that are not our own; we are working for organizations that transcend international borders; and our children will travel to more places than most of us could have ever dreamed possible.
Gaining an international perspective on their major field of study is opening up new opportunities for Kansas State University students and letting them explore the world — from the dense rainforests in South America to arid deserts in Africa.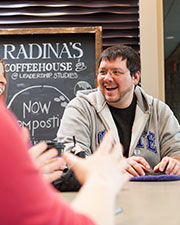 A modern approach to modern languages
Students in the College of Arts & Sciences are discovering that studying abroad is not the only way to have an international experience. While nothing can replace visiting another country, the Department of Modern Languages is finding new ways for students to experience other cultures outside the classroom.
After a more than 30-year hiatus, the nations have reconvened in the College of Arts & Sciences at Kansas State University with the relaunch of the Model United Nations team.
Providing international experiences is not limited to administration and faculty on campus. It's also something College of Arts & Sciences alumni are passionate about supporting. Meet three families who have found ways to help students have life experiences that are impacting their college experience and shaping their future.
Each year, nearly 2,250 international students flock to Kansas State University from more then 110 countries. Conversely, more than 700 native K-State students annually experience other cultures by participating in travel programs offered to more than 85 countries.
When it comes to a partnership between researchers in Kansas State University's biochemistry and molecular biophysics department and a Brazilian university, science is the international language.
The Purple Masque Theatre has moved from East Stadium, which it called home since 1974, to a completely renovated facility in West Stadium.
Binh Hua, sophomore cadet in the Kansas State University Air Force ROTC program, became interested in becoming a Wildcat after participating in a computer science internship. But it was the Air Force ROTC program in the College of Arts & Sciences that solidified her choice and is helping her reach her dream.
Past issues
Winter 2015
Summer 2014
Winter 2014
Summer 2013
Winter 2013
Summer 2012
Winter 2012
Summer 2011
Summer 2010
Winter 2009
Spring 2009
Fall 2008
Winter 2008
Summer 2007
Fall 2006
Spring 2006
Fall 2005