Letters Alumni Magazine
Winter 2015
As we begin 2015, the College of Arts & Sciences has found a reawakening of what we love about a liberal arts, or as we call it, an Arts & Sciences education.
For the College of Arts & Sciences, a successful academic experience means more than just earning a degree. It's all about developing a complete mind.
Six active college faculty have CASE/Carnegie honors.
K-State Marching Band harmonizes science and art to bring music to life.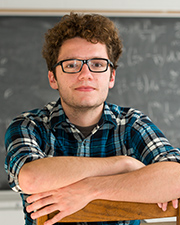 A place for brilliant minds and bright beginnings
Kansas State University is known as one of the top universities in the nation for the number of national scholarship recipients. Read on to learn about the College of Arts & Sciences' very own who have been awarded a prestigious scholarship this past year.
From academia to public service, Alumni Award recipients stand out in their fields.
The fifth anniversary of the Eisenhower Circle Celebration culminated in an elegant evening of music, food and award recognition.
Past issues
Summer 2014
Winter 2014
Summer 2013
Winter 2013
Summer 2012
Winter 2012
Summer 2011
Summer 2010
Winter 2009
Spring 2009
Fall 2008
Winter 2008
Summer 2007
Fall 2006
Spring 2006
Fall 2005