Chiropractic Medicine
Chiropractic care is a health care discipline which emphasizes the inherent power of the body to heal itself without the use of drugs or surgery. It focuses on the relationship between the body's structure (primarily the spine) and function (as coordinated by the nervous system) and how that relationship affects the preservation and restoration of health.
Chiropractic doctors diagnose and treat patients whose health problems are associated with the body's muscular, nervous, and skeletal systems. Chiropractors believe that interference with these systems can impair normal functioning, cause pain, and lower resistance to disease. They are most well-known for the hands-on technique they practice to adjust imbalances in the patient's skeletal system, particularly the spine.
The chiropractic approach to healthcare is holistic, stressing the patient's overall health and wellness. It recognizes that many factors affect health, including exercise, diet, rest, environment, and heredity. (Explore Health Careers)
Advisor: Gayla Adams-Wright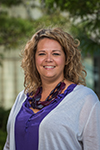 Gayla has been part of the K-State family since 2004 and has experience advising students across multiple areas, including: Clinical Laboratory Sciences, Pre-Chiropractic, Pre-Veterinary Medicine, Pre-Optometry, Pre-Occupational Therapy as well as Physical Science and Life Science interdisciplinary degrees.
She has a Master's degree is in Rehabilitation Counseling and is currently working on a Ph.D. in Counseling and Student Development. Originally from California, she has lived in Oregon, Missouri and Kansas.
Email: gayla@k-state.edu
Phone: 532-6904
Office: 107 Calvin Hall
Eligibility Criteria & Application Information
Most chiropractic medicine programs require that applicants have at least three years of undergraduate education. An increasing number of schools require a bachelor's degree.
Your undergraduate studies must include a prescribed number of prerequisite courses, as defined by the field's accrediting body, the Council on Chiropractic Education. Accredited chiropractic medicine programs last 4 years and lead to a Doctor of Chiropractic (D.C.) degree.
Relevant Links