Strayhall Wins Sullivan Poetry Award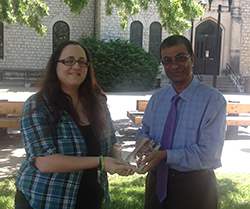 Catherine Strayhall, senior in English, became the first two-time winner of the Sullivan Poetry Award presented by the College of Arts & Sciences with her poem "MULTUM IN PARVO."
"It's really gratifying, especially as a writer and English major at K-State," Strayhall said. "And it's a really great opportunity to continue to test my skills and grow as a writer."
Strayahll won the 2015 award for her poem "The Air Was Heavy and the Days Were Long," which captured the feeling of a young girl growing up in Kansas. This year, Strayhall took the next step in that life journey, focusing on the experience students have at K-State and in the Flint Hills surrounding Manhattan.
"I struggled at first, but then I realized this poem didn't have to be totally different from last year's. It could sort of build of last year, so there are some slight shout outs to that," Strayhall said. "Last year's poem was more of an imagining and this year's is more true to my life. It's a lot about Manhattan and my passion for K-State as a community."
The Sullivan Poetry Award is an annual poetry contest presented by the College of Arts & Sciences and is open to all students at K-State, regardless of major.
"The Sullivan Award is supported through a gift by an alumnus who, while not a formal writer himself, enjoys writing poetry and supporting students who do as well," said Amit Chakrabarti, interim dean of the College of Arts & Sciences. "We are able to celebrate the many creative accomplishments of our students in our college through generous alumni and friends like Mr. Sullivan."