A passion for math in and out of the classroom
By Scotland Preston
Communications Intern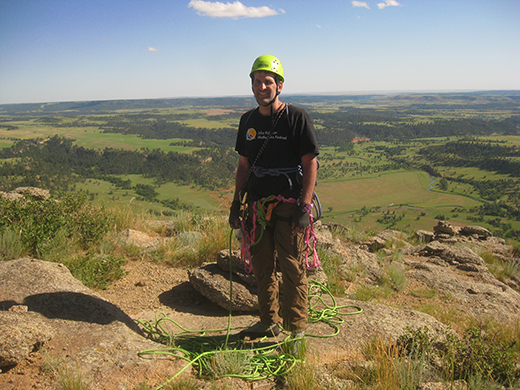 K-State Math professor David Auckly has made headlines by having puzzles published in the New York Times, but math goes far beyond games.
Professor Auckly says practicing mathematics improves mental health, just like exercise improves physical health. Auckly explains that there is a great importance for mathematics; that ideas discovered in mathematics have led to applications in e-mail, animation in movies, medical imaging and more.
"Having people pursue higher mathematics and research produces new and beautiful ideas, just like people pursuing the arts produces new images, dances and music," Auckly said.
Not only does Auckly follow his passion for math by teaching in the College of Arts & Sciences at K-State, he also spends time outside the classroom surrounded by numbers.
Auckly served as the Associate Director of the Mathematical Sciences Research Institute in Berkeley, Calif., a worldwide leading research center for mathematics, from 2009 to 2012. While organizing a public mathematics festival, Auckly met Gary Antonick, editor of the New York Times NumberPlay. Since then, Auckly has published two puzzles, and hopes to continue to contribute two or three per year.
Auckly makes his submissions more than just a game. His most recent puzzle submission, The Navajo Nation Sheep Problem, incorporates the Navajo Nation Math Circle Project that Auckly co-directs. This is an additional mathematical involvement of Auckly's, which has the goal to attract more Native Americans into the field of mathematics.
"I think life is about helping people, trying new things, and putting effort and care into the things that you do try," Auckly said. "I have never regretted working to get better at something."
Auckly uses his love of mathematics to also follow his passion for the outdoors. For 30 years, he has participated in technical rock climbing, ice climbing and mountaineering. With Kansas not being very suitable for these types of activities, Auckly plans climbing trips, many times around math conferences. He made a 50-mile trek along the Pacific Coast Trail before a conference in Oregon, climbed two frozen waterfalls before a workshop at the Banff International Research Station, and ventured to Devil's Tower while in Wyoming instructing a math teachers' workshop, where he happened to find a partner to join him in his climb.
Auckly says that just as it is easier to skip the gym when you don't have friends to go with, it is just as important in all aspects of life to share experiences with others.
"Sharing experiences with others makes it easier to try new things, help others and work, all at the same time," said Auckly.