Mike Sharpe
A College of Arts and Sciences experience at K-State can truly be a stepping stone to success—for a career, for exploration of your passions, and possibly even for love! Alum Mike Sharpe ('90) found all three of these to be true of his time at K-State.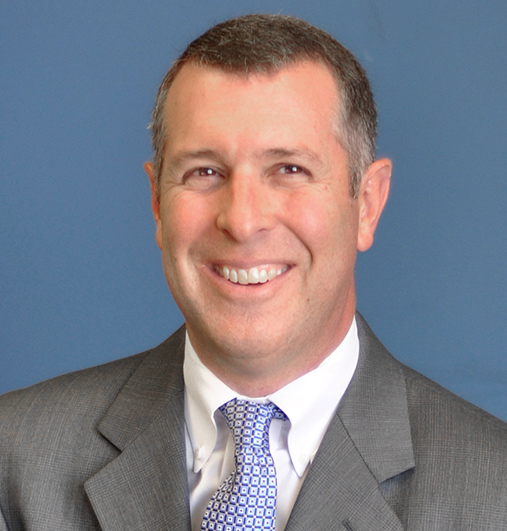 Sharpe was the youngest of three boys from his family to attend K-State, and through visiting campus with his brothers he realized that Manhattan and the K-State campus had a welcoming atmosphere that made him feel at ease. This is a feeling that persists on campus today, and the Princeton Review ranked K-State #1 in the nation for student happiness.
The feeling of belonging Sharpe felt gave him a great place to start, and the high-quality academic and extracurricular opportunities at K-State guided him toward his future. One particularly impactful Arts and Sciences class he took was Anatomy and the Human Body, a course which students to this day continue to enjoy and benefit from.
"Never in my wildest dreams did I think I would ever have the opportunity to work on a human cadaver," said Sharpe. "But in Human Body I did. It took a while for me to get accustomed to smell of formaldehyde – but the unforgettable experience of learning about the human body in this environment was indescribable."
Not only did he thrive in the innovative courses he took, but he also took advantage of opportunities outside of the classroom. Sharpe served as a student manager with the K-State Men's Basketball team in 1987-1988 under coach Lon Kruger. During his two seasons with the team, he got real-life experience in a field about which he was passionate. Not only did he get to explore his passion helping the team, but he also gained experience that would help him throughout his life.
"The incredible opportunity I had with the basketball team helped me learn many of the coaching techniques and strategies that I utilized later in my career," said Sharpe. "The time I spent around the coaches and players also enabled me to develop some very strong networking connections that benefitted me in my career path—it was truly an invaluable experience."
By combining what he learned in his coursework and his extracurriculars, Sharpe was well on the way to beginning his future. Toward the end of his K-State career, he took another step toward that future.
"During my fourth year of school, the most meaningful interaction I had was meeting the woman that I would eventually marry and create a life with, said Sharpe. "Our 32 year relationship includes being married for 27 of them and having two wonderful children. I can't think of a more meaningful interaction I could have had at K-State than meeting her."
Mike Sharpe took advantage of the opportunities that K-State and the College of Arts and Sciences had to offer. He graduated in 1990 with a BS in K-12 Physical Education & K-12 Adapted Physical Education. Through academics, extracurriculars, and even meeting the woman who would become his wife, K-State helped him shape the future of his dreams.
For the past seven years, (2013-2020) Sharpe have served as the Director of Business Development for the Greater Kansas City Sports Commission & Foundation. In this role he oversees all facets of national sporting event procurement for the organization. In addition to these responsibilities he handles governmental affairs at the city, county, and state levels.
Prior to his current role, Sharpe held positions such Assistant Commissioner of the Great West Conference (NCAA D-I),Athletic Director at Avila University (NAIA), and collegiate men's basketball coach at three different community colleges (Pratt CC – Pratt, KS; Johnson County CC – Overland Park, KS; Brown Mackie College – Overland Park, KS) and one NCAA Division I institution (University of Missouri – Kansas City, Kansas City, MO).
The College of Arts and Sciences sets the stage for you to become the next game changer, the next problem-solver, the next voice of a generation. Mike Sharpe saw this play out in his life, and you can, too. Become the best version of you. Become a Wildcat.