Rich Jankovich
It may seem hard to believe right now, but the major you choose in college doesn't define your life—the opportunities you pursue and experiences you gain while at K-State do. Alum Rich Jankovich knows this better than most.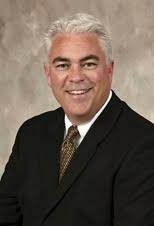 While at K-State, Rich took advantage of the many opportunities college life had to offer. He participated in research projects relating to adaptive physical learning, was a member of K-State Singers, competed nationally in forensics, was cast in an opera and had principal roles in musical theater, none of which he had ever done before coming to K-State. It's always tough to try something new, but who knows? That new experience could be what helps you most as you go through life.
"I have to say that singing in an opera, performing in the K-State Singers and musical theatre, and competing in forensics are probably some of the most poignant activities that have assisted me in my professional life," Rich has said. "I have not been afraid to take on challenges out of fear, step out to represent myself, the community or organizations that I have been associated with as well as serving my community and work at all levels of our elected bodies of governments and corporations."
Jankovich majored in Physical Education and minored in business at K-State in 1979. His major doesn't exist in the College of Arts and Sciences today; however, his involvement while at K-State, both in and out of the classroom, have certainly contributed to his success.
He has put his College of Arts and Sciences experience to good use throughout his life. After a long career in banking, including Market President for Sunflower Bank, Jankovich now serves as the Special Accounts Manager at Purple Wave— an online auction company, where he establishes new lines of business and analyzing opportunities for innovative new revenue sources. Not only has he had a rewarding professional career, but he has also served his community in multiple roles.
So, what can someone do with a degree from the College of Arts and Sciences that no longer exists, a minor in business, and an MBA? Here's just some of what Rich has done:
Career
Special Accounts Manager, Purple Wave
Market President, Sunflower Bank
Distinguished Trooper of the First Infantry Division and Fort Riley
Collegiate coach, team won the NCAA Div. II championship in 1984.
Volunteer
City Commissioner, Manhattan
Via Christi (Mercy) Regional Foundation Board
Chair of Manhattan Area Chamber of Commerce Military Relations Committee
Chair of College of Arts and Sciences Alumni Advisory Council
Rich Jankovich used his K-State experience to launch a full and fulfilling career—what will you do with yours? Find your passion in the College of Arts and Sciences with 22 departments, more than 30 options for majors, plus opportunities for minors, certificates, secondary majors, and more. Get involved in creating new knowledge through research—100% of our departments offer research opportunities for students. Explore what it means to be human, understand your world, and gain a global perspective in the College of Arts and Sciences.
"I still remember the advice I received from my favorite professor," Jankovich said. "'Don't worry about where your path leads, represent K-State well and continue to be a proud Wildcat.'"