Dean's Welcome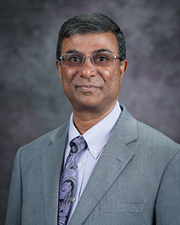 As dean of Arts and Sciences since April 2017, I am very excited and energized to continue this new adventure with you.
Our college is strong, built on a solid foundation of outstanding faculty and students.
There is a long list of highlights, but here are some of the most important examples:
Faculty: Two-thirds of K-State's University Distinguished Professors come from our college.
Students: More than 80 percent of K-State's nationally competitive scholarship recipients (Rhodes, Marshall, Truman, Goldwater and Udall) are ArtSci students.
Impact: 100 percent of the students who graduate from K-State take at least one course from the College of Arts & Sciences. We have an impact on every profession.
Indeed, our strong history has put us in a good position for success, but there are always unique challenges that must be faced.
For our college, some of those include:
Finances: State resources are down from 50 percent to 20 percent
Faculty Retention: Many of our faculty are being heavily recruited by other universities.
Cancer Research: Replacing the retired Dr. Rob Denell, the previous director for the Johnson Cancer Research Center, will be monumentally important as we look to continue what he started.
Geosciences Education: The energy and water industries have over a $4.3 billion impact on the state of Kansas alone, employing more than 26,000 people directly and indirectly. We need to provide strong educational opportunities for students interested in competing in these areas.
As we work to address those challenges, we also see some great opportunities to reach for. Some of my top priorities include:
Producing a diverse student population that is well-rounded with a comprehensive education and international experiences.
Endowing positions to retain top faculty who are poised to help solve society's grand challenges, such as curing cancer.
Providing quality collaborative lab & teaching spaces for the geosciences and STEM areas.
Commercializing high-end research being produced from our college.
I have no doubt we can build on our strong history, overcome these challenges and capitalize on our opportunities. As I reflect on all of this, I'm keenly aware that we would not have been successful in the past, nor will we be able to succeed in the future, without your support. I look forward to working with you to build on our outstanding legacy in the months and years ahead.
Sincerely,
Dr. Amit Chakrabarti, Dean
About the dean
Amit Chakrabarti was named dean of the College of Arts & Sciences, Kansas State University's largest college, in April 2017.
Dean Chakrabarti has a doctorate in physics from the University of Minnesota, and master's and bachelor's degrees in physics from the University of Calcutta, India.Dean Chakrabarti has collaborated with several K-State faculty on projects that have been funded by the K-State Targeted Excellence Program, NASA and the National Science Foundation. One of his research collaborations is with Jim Gunton, a professor at Lehigh University, to understand how insulin crystals form from aqueous solutions. Insulin is an important drug in the treatment of diabetes; understanding the process of microcrystal formation is important for developing new methods of drug delivery. Chakrabarti also is working on fiber formation in sickle cell hemoglobin, the mutant form of hemoglobin responsible for sickle cell anemia.