Respiratory Care
Respiratory therapists, also known as respiratory care practitioners, address breathing or other cardiopulmonary disorders. These essential healthcare workers evaluate and treat all types of patients, ranging from premature infants with underdeveloped lungs to elderly people suffering from disease. They may provide care for chronic conditions such as asthma or emphysema and also work in emergency care to assist victims of stroke, drowning, shock and other situations.
These professionals are increasingly in demand and an important part of the healthcare team. According to the U.S. Department of Labor, faster-than-average employment growth is projected for respiratory therapists. Job opportunities should be very good, especially for respiratory therapists with cardiopulmonary care skills or experience working with infants. A professional license is required to provide clinical services in this field.
Advisor: Kaela Urquhart
Kaela Urquhart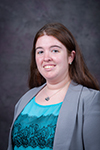 Kaela joined the K-State Pre-Health Advising staff in February of 2016 after serving in a Student Success Capacity for three and a half years at the University of Saint Mary in Leavenworth, KS. She is returning to her alma mater as she holds two degrees from Kansas State University. In 2010 she earned a B.S. in Secondary Education with an emphasis in English, and continued on for her M.S. in Academic Advising, earned in 2012. She is an avid sports fan with her college team, of course being K-State, her MLB team being the Royals and her NFL team being the Cincinnati Bengals.
She has always enjoyed being strongly rooted in student support services and is excited to be a part of the Pre-Health team. She is here to help with advising support and preparation for applying and entering professional schools, and to be a positive resource for your success as a Wildcat.
Email: kaelaurquhart@ksu.edu
Phone: 532-6904
Office: 107 Calvin Hall
Eligibility Criteria & Application Information
Pre-Respiratory Care is not a degree-granting program. The program at Kansas State University (K-State) averages four 16-hour semesters and is designed to prepare students to enter the Respiratory Care Program at the University of Kansas (KU) Medical Center. Students planning to enter other programs should consult catalogs from the individual schools.
Admission to the Respiratory Care program at KU is competitive and is not automatic upon completion of the prerequisites. Students must complete 61-63 hours of prerequisites with a minimum GPA of 2.5 and no grade below a C. Clinical tour of an acute care hospital with observation in a Respiratory Care Department is required.
Relevant Links