Health Information Management
Health information management is the practice of acquiring, analyzing, and protecting digital and traditional medical information vital to providing quality patient care. HIM professionals are highly trained in the latest information management technology applications and understand the workflow in any healthcare provider organization from large hospital systems to the private physician practice. They are vital to the daily operations management of health information and electronic health records.
Health information management professionals work in a variety of different settings and job titles. They often serve in bridge roles, connecting clinical, operational, and administrative functions. These professionals affect the quality of patient information and patient care at every touch point​ in the healthcare delivery cycle. Having skilled HIM professionals on staff ensures an organization has the right information on hand when and where it is needed while maintaining the highest standards of data integrity, confidentiality, and security.
Advisor: Dave Cassiday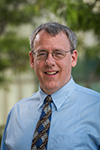 Dave was born in Nebraska but spent time growing up in Montana and graduated from high school in Colorado. He completed his undergraduate degree in history at the University of Nebraska-Lincoln and earned a M.A. in Higher Education Administration at the University of Missouri-Kansas City.
Dave started his advising career at UMKC, and worked in distance education at Kansas City Public Television (KCPT-19). He did both during his eight years at the University of Nebraska-Omaha, before moving to Manhattan in May 2013 in order to return exclusively to advising students face-to-face, which he loves.
Email: dcassid1@k-state.edu
Phone: 532-6900
Office: 113 Eisenhower Hall
Eligibility Criteria & Application Information
Pre-Health Information Management is not a degree-granting program. This guide is based on prerequisites for the professional program at the KU Medical Center. It takes two years to complete the prerequisites at K-State and another two years to complete the requirements for the Health Information Management degree from The University of Kansas.
A minimum of 63 hours must be completed before entering the professional program. The minimum GPA for application is a 2.5 calculated in three separate categories: Overall, Prerequisite, and Biological Sciences. No grade lower than a C is accepted in any prerequisite course.
In addition, verification of four hours of formal observation in a Health Information Department is required to apply to the program at The University of Kansas Medical Center.
Relevant Links