Undergraduate Research Opportunities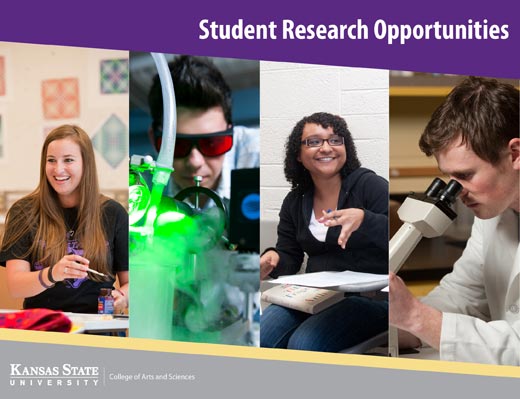 Work closely with a faculty member to hone your research interests and make a contribution to the field. Then network with researchers at conferences to present your findings. Your hard work will help you stand out when searching for a career or applying to graduate or professional school.
Undergraduate students enrolled in any major in the College of Arts and Sciences are invited to apply for research awards to conduct projects with faculty members in the college. Faculty members from departments outside the college may serve as co-mentors on projects but the primary mentor must have a faculty appointment in an A&S department. Projects will be one summer or one semester in length.
Students selected for research awards will receive a scholarship award of $1,000. This award will be applied to the student's financial aid package. If the research project is not successfully completed, the award must be refunded.
Award recipients will enroll in DAS 400, Undergraduate Research in Arts & Sciences, for zero to three credit hours. A typical research project will include at least 100 hours working on the project: 10 hours per week for 10 weeks in the summer, or six to eight hours per week for 15 weeks in the spring or fall. These projects will be direct hands-on research, scholarly or discovery experiences — not lab support or readings. Students selected for the internships will be required to submit a final report.
Research awards can be renewed once; however, preference will be given in the review process to proposals from students who have not previously had awards. Preference also will be given to students who will not receive concurrent funding for the same project from other sources such as Developing Scholars, Johnson Cancer Center, K-INBRE, or McNair Scholars. Students are encouraged to seek funding from such sources to continue projects initiated under the A&S Undergraduate Research Scholars program.
Application deadlines
Spring 2016 projects: November 2, 2015.
Summer 2016 projects: February 15, 2016.
Fall 2016 projects: April 26, 2016.
Spring 2017 projects: November 7, 2016.
Summer 2017 projects: February 13, 2017.
Fall 2017 projects: April 25, 2017.
Instructions for Submitting Final Research Project Reports
Reports should be 2-3 single spaced pages and contain the following sections:
Research Project Title
Author(s)
Abstract (100 word summary) Introduction and Background - the scholarly problem addressed in the project and its context in the field
Materials and Methods - approach(es) taken to solve the scholarly problem, activities conducted in the project
Results - what was discovered or determined from the project
Discussion - How the results fit in context, any deviations from expectations, possible further studies on the topic
References Cited

The reports should be submitted as PDF files to artsciugo@ksu.edu