Veterinary Medicine
Veterinarians play a major role in the healthcare of pets, livestock, and zoo, sporting, and laboratory animals. Some veterinarians use their skills to protect humans against diseases carried by animals and conduct clinical research on human and animal health problems. Others work in basic research, broadening the scope of fundamental theoretical knowledge, and in applied research, developing new ways to use knowledge.
There is a growing need for vets with post-graduate education in particular specialties, such as molecular biology, laboratory animal medicine, toxicology, immunology, diagnostic pathology, or environmental medicine. The veterinary profession also is becoming more involved in aquaculture, comparative medical research, food production, and international disease control.
Advisor: Gayla Adams-Wright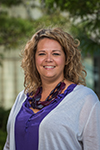 Gayla has been part of the K-State family since 2004 and has experience advising students across multiple areas, including: Clinical Laboratory Sciences, Pre-Chiropractic, Pre-Veterinary Medicine, Pre-Optometry, Pre-Occupational Therapy as well as Physical Science and Life Science interdisciplinary degrees.
She has a Master's degree is in Rehabilitation Counseling and is currently working on a Ph.D. in Counseling and Student Development. Originally from California, she has lived in Oregon, Missouri and Kansas.
Email: gayla@k-state.edu
Phone: 532-6904
Office: 107 Calvin Hall
Eligibility Criteria & Application Information
Veterinarians graduate from a 4-year program at an accredited college of veterinary medicine with a Doctor of Veterinary Medicine (D.V.M. or V.M.D.) degree and obtain a license to practice. There are 28 colleges in 26 States that meet accreditation standards set by the Council on Education of the American Veterinary Medical Association.
The prerequisites for admission vary by veterinary medical college. Many of these colleges do not require a bachelor's degree for entrance; but all require a significant number of credit hours—ranging from 45 to 90 semester hours—at the undergraduate level. However, most of the students admitted have completed an undergraduate program.
Relevant Tests
Relevant Links