Physical Therapy
Physical Therapists provide services that help restore function, improve mobility, relieve pain, and prevent or limit permanent physical disabilities of patients with injuries or disease. Physical Therapists work closely with patients and clients to restore, maintain, and promote their overall fitness and wellness for healthier and more active lifestyles.
Physical Therapists practice in a variety of settings including hospitals, outpatient clinics, private offices, home health agencies, schools, sports and fitness facilities, work settings, and skills nursing facilities. (Explore Health Careers)
Advisor: Zac Malcolm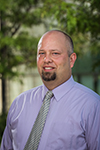 Zac loves being a Pre-Health Advisor for his alma mater K-State. He received his Master's in Academic Advising degree from K-State in 2010. He has lived in Manhattan since 2004, and being a tremendous K-State sports fan, he loves to attend any sports events he can.
Zac is a native of Clay Center Kansas and received his Bachelor Degree in Education from Emporia State University in 2001. He spent the next 14 years as an educator, and he now advises for Pre-Dentistry and Pre-Physical Therapy students, as well as Life Science interdisciplinary degrees.

Email: malcoz@k-state.edu
Phone: 532-6904
Office: 107 Calvin Hall
Eligibility Criteria & Application Information
Eligibility Criteria
Students must obtain a bachelor's degree prior to admission to a Physical Therapy program. There is no preferred major. Pre-Physical Therapy is not a major. Therefore, students cannot earn a degree in Pre-Physical Therapy. In addition to courses required to complete a bachelor's degree, completion of the courses required by the Physical Therapy program and competitive scores on the GRE are required. Competitive applicants also show evidence of observation hours in a physical therapy setting.
Early and regular consultation with the Pre-Physical Therapy advisor is recommended.
Physical Therapy Programs
Physical Therapy programs are 3 years in length and lead to a Doctor of Physical Therapy (DPT) degree. "Beyond the DPT degree, all states and territories require a license to practice physical therapy. Each state requires the National Board Examination (NPTE) but each state may have additional criteria for obtaining licensure." (KU Medical Center website)
Relevant Tests
The GRE Revised General Test measures your verbal reasoning, quantitative reasoning, critical thinking, and analytical writing skills. Below is a brief description of each of the content areas:
Verbal Reasoning – measures your ability to analyze and evaluate written material and synthesize information obtained from it, analyze relationships among component parts of sentences and recognize relationships among words and concepts
Quantitative Reasoning – measures problem-solving ability, focusing on basic concepts of arithmetic, algebra, geometry, and data analysis.
Analytical Writing – measures critical thinking and analytical writing skills, specifically your ability to articulate and support complex ideas clearly and effectively.
For more information about the GRE go to www.ets.org.
Relevant Links