Dentistry
Dentistry is the branch of the healing arts and sciences devoted to maintaining oral health. A dentist is a scientist and clinician dedicated to the highest standards of health through prevention, diagnosis, and treatment of oral diseases and conditions. (2013 ADEA Official Guide to Dental Schools)
Advisor: Zac Malcolm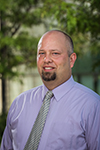 Zac loves being a Pre Health Advisor for his alma mater K-State. He received his Master's in Academic Advising degree from K-State in 2010. He has lived in Manhattan since 2004, and being a tremendous K-State sports fan, he loves to attend any sports events he can.
Zac is a native of Clay Center Kansas and received his Bachelor Degree in Education from Emporia State University in 2001. He spent the next 14 years as an educator, and he now advises for Pre-Dentistry and Pre-Physical Therapy students, as well as Life Science interdisciplinary degrees.

Email: malcoz@k-state.edu
Phone: 532-6904
Office: 107 Calvin Hall
Eligibility Criteria & Application Information
A bachelor's degree prior to admission to dental school is highly recommended, but since Pre-Dentistry is not a major, students cannot earn a degree in Pre-Dentistry.
There is no preferred major, so aim for something you enjoy and can excel in. In addition to courses required to complete a bachelor's degree, completion of the courses required by the dental school and competitive scores on the Dental Admissions Test (DAT) are required. Competitive applicants also have shadowing experience in dentistry, demonstrated service to others and leadership experience. Early and regular consultation with the Pre-Dentistry advisor is recommended.
Dental schools are 4-year programs that lead to a Doctor of Dental Surgery (DDS) or Doctor of Medical Dentistry (DMD) degree. After completing a dental degree, some may choose to go straight in practice as a General Dentist. Others may choose to undertake a dental residency, either to gain advanced training as a General Dentist or to become a specialist.
Relevant Tests
The Dental Admissions Test (DAT) is "designed to measure general academic ability, comprehension of scientific information, and perceptual ability" or prospective dental students. The DAT consists of 4 sections: "natural sciences (biology, general chemistry, and organic chemistry), perceptual ability (two- and three-dimensional problem solving), reading comprehension (dental and basic sciences), and quantitative reasoning (mathematical problems in algebra, numerical calculations, conversions, etc.)" (2013 ADEA Official Guide to Dental Schools).
For more information about the DAT go to http://www.ada.org/dat.aspx
Relevant Links