Ramm Selected as Research Ambassador for German Academic Exchange Service
By Tom Roesler
Communication and Events Coordinator
College of Arts and Sciences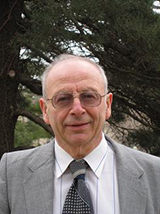 The German Academic Exchange Service (DAAD), the German national agency for the support of international academic cooperation, announced Alexander Ramm, professor of mathematics in the College of Arts and Sciences at Kansas State University, has been selected to serve as a DAAD Research Ambassador for the 2013/14 academic year.
"This is an outstanding recognition of Prof. Ramm's accomplishments," said Peter Dorhout, dean of the College of Arts & Sciences. "He will serve the students and faculty well as a liaison with this important international agency as we move towards our 2025 goals of developing international research initiatives and promote study abroad."
DAAD Research Ambassadors help to inspire others to conduct research in Germany by working within their respective departments and serving as a resource to university offices. They are also available to answer questions from students and peers from beyond their geographic areas via email.
"Alex has been an outstanding research mentor and mathematician who has brought students from around the world to K-State to work with him," said Andrew Bennett, head of the mathematics department. "No one could be better at helping grow international cooperation in mathematical research."
This academic year, the Research Ambassador program is honoring 23 individuals who have conducted a long-term research project in Germany at the doctoral level or above. At the end of August, the 2013/14 Research Ambassadors participated in a two-day seminar addressing the latest developments in German higher education and research and the many generous funding programs available to North American scientists and academics interested in conducting research in Germany or initiating collaborative projects with German colleagues. They have now returned to their respective campuses, where they will serve as liaisons for DAAD in the US and Canada to promote research opportunities in Germany among their colleagues, peers and students.
"Research work is very important for me. Faculty and students interested in a study or doing research in Germany and being funded for this by DAAD can get the DAAD information brochures from me," Ramm said.
In his career, Ramm has authored more than 630 papers, published in mathematical, physical, and engineering journals, 14 monographs, and edited three books. He has been an invited speaker at more than 140 talks at various national and international conferences, and has been a visiting research professor at many universities throughout the world, including Germany, where he has served as a DAAD Research Professor, Mercator Professor, and Max Planck Institute visiting professor.
DAAD is the German national agency for the support of international academic cooperation. The DAAD offers programs and funding for students, faculty, researchers and others in higher education providing financial support to over 100,000 individuals per year. DAAD also represents the German higher education system abroad, promoting Germany as an academic and research destination and establishes ties among institutions around the world.