Glenda Garrelts Mattes and Donald A. Mattes Wander Grant - International Travel Award
Description
The Glenda Garrelts Mattes and Donald A. Mattes Wander Grant - International Travel Award is intended to provide the financial means to allow a student studying in the College of Arts & Sciences, who might not otherwise consider it, to travel abroad and meaningfully engage a new culture and setting for the first time.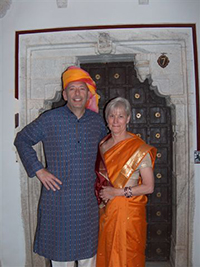 Glenda and Don Mattes and The College of Arts and Sciences invite undergraduates to submit proposals for an independent travel experience. Travel may be planned for any time period, but the deadline for Summer 2020 travel is February 15. Applications received after the February 15 date will be considered for future awards. One award of $4,000 will be available for Summer 2020. Students who may not otherwise have the financial means to travel abroad are particularly encouraged to apply.
Proposals should facilitate independent international travel and expose the applicant to the people and customs of another country (or multiple countries). Several notes:
1. Glenda Garrelts Mattes and Donald A. Mattes Wander Grant - International Travel Award does not wish to solicit participation in formal study abroad or other structured experiences such as organized service trips abroad.
2. Independent need not imply solitary for students who plan to travel with one or several peers (although solitary travel is also acceptable). However, travel and/or residence with large groups of Americans will not be funded.
Eligibility
Eligible applicants will:
Pursue a degree track within the College of Arts & Sciences.
Be enrolled as undergraduates in good academic standing at the time of application.
Have no previous travel outside the United States or Canada.
The duration of the travel experience may vary as long as it will effectively meet the goals of the program as stated above. The destination may vary as well. Students may not travel to any country where a State Dept. travel advisory or warning applies though.
How to apply
Click to download the application(pdf).
Application Deadline for Summer 2020 Travel: February 15, 2020.
Want to hear from someone who took advantage of this opportunity? Check out the video below from Laken Horton, the 2019 winner!
Glenda & Donald Mattes
Read their story (pdf) and learn about why they're passionate about helping students pursue their travel dreams.