Occupational Therapy
Occupational therapists (OTs) assist clients in performing activities of all types, ranging from using a computer to caring for daily needs such as dressing, cooking, eating, and driving. Services typically include: customized treatment programs to improve one's ability to perform daily activities; comprehensive home and job site evaluations with adaptation recommendations; adaptive equipment recommendations and usage training; and guidance to family members and caregivers (explorehealthcareers.org)
You must complete a bachelor's degree prior to entering an OT program. There is not one degree preferred over another so a student should choose one that matches their interests. Examples of degrees in which students have majored include: Family Studies and Human Services, Kinesiology, Life Science, Nutrition, Psychology, Social Work, and Sociology.
Advisor: Gayla Adams-Wright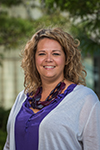 Gayla has been part of the K-State family since 2004 and has experience advising students across multiple areas, including: Clinical Laboratory Sciences, Pre-Chiropractic, Pre-Veterinary Medicine, Pre-Optometry, Pre-Occupational Therapy as well as Physical Science and Life Science interdisciplinary degrees.
She has a Master's degree is in Rehabilitation Counseling and is currently working on a Ph.D. in Counseling and Student Development. Originally from California, she has lived in Oregon, Missouri and Kansas.
Email: gayla@k-state.edu
Phone: 532-6904
Office: 107 Calvin Hall
Eligibility Criteria & Application Information
Many OT programs require a minimum grade point average to even be considered. GPA's minimums range from 3.0 – 3.3 but a competitive GPA is at or above 3.5. It is advisable to maintain a GPA higher than the stated minimum.
Beyond grades, there are additional factors professional schools consider when evaluating an application for admission. These include work experiences with special populations, time spent shadowing as well as volunteer activities. Additionally, recommendation letters, the personal statement and the development of leadership skills are non-quantifiable characteristics which provide insight into a student's desire to be an OT.
Students apply to professional school through the Centralized Application Service for Occupational Therapy Centralized Application Service (OTCAS.) Most, if not all, OT schools will require a supplemental application. Both the OTCAS and the supplemental documents must be submitted in order for your application to be considered complete. Individual deadlines are determined by the Occupational Therapy programs, NOT by OTCAS.
Because pre-requisites change and admissions deadlines vary students must review the webpages of the schools of most interest to them. Professional schools welcome contact from a prospective student. Students are responsible for knowing and completing the requirements of their major and those of the OT programs to which they plan to apply.
Relevant Links