Optometry
Doctors of Optometry (ODs) are the primary health care professionals for the eye. Optometrists examine, diagnose, treat, and manage diseases, injuries, and disorders of the visual system, the eye, and associated structures. They also identify related systemic conditions affecting the eye.
ODs diagnose and treat, prescribe medications, perform certain surgical procedures, provide vision therapy and low vision rehabilitation, and assist patients with spectacle and contact lenses. They counsel patients regarding surgical and non-surgical options to meet their visual needs, and in cases involving surgery they provide both pre-operative and post-operative consultation and care. ODs also diagnose systemic conditions that have eye-related symptoms (i.e., diabetes or high blood pressure) and refer patients to other health practitioners, as needed. (Explore Health Careers).
Advisor: Gayla Adams-Wright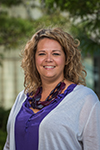 Gayla has been part of the K-State family since 2004 and has experience advising students across multiple areas, including: Clinical Laboratory Sciences, Pre-Chiropractic, Pre-Veterinary Medicine, Pre-Optometry, Pre-Occupational Therapy as well as Physical Science and Life Science interdisciplinary degrees.
She has a Master's degree is in Rehabilitation Counseling and is currently working on a Ph.D. in Counseling and Student Development. Originally from California, she has lived in Oregon, Missouri and Kansas.
Email: gayla@k-state.edu
Phone: 532-6904
Office: 107 Calvin Hall
Eligibility Criteria & Application Information
The OD degree requires completion of a 4-year program at an accredited optometry school. Most optometry students earn a baccalaureate or higher degree. To be accepted into optometry school, you first must take the Optometry Admission Test (OAT).
Relevant Links