Medicine
Our pre-medical advisors will help you with important information on preparing for medical school, including prerequisite coursework, relevant test information, and assembling a competitive application.
As you research your options, here are a few things to keep in mind:
"Pre-med" is not a major. Pre-medicine is a set of course requirements that prepares you for success on the MCAT and as a medical student.
Because pre-med is not a major, you will need to pick a major in something else at K-State. However, you do not have to major in the sciences in order to gain admission to medical school. In fact, statistics show that students who major in humanities/social science are admitted to medical schools at similar rates to science majors.
As you select your major, you should consider a subject you enjoy and are interested in. To get the kind of grades you need to be competitive, you will need to study for understanding and be able to apply what you learn to problems you have not seen in class or in a textbook. That doesn't happen unless you care about the subject.
Competitive applications include demonstrating a commitment to serve others. We strongly encourage students to become involved in community service and leadership and can help you find ways to get started. Be prepared to get involved outside the classroom!
Advisors: Zac Malcom and Kaela Urquhart
Zac Malcom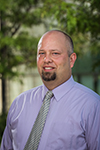 Zac loves being a Pre-Health Advisor for his alma mater K-State. He received his Master's in Academic Advising degree from K-State in 2010. He has lived in Manhattan since 2004, and being a tremendous K-State sports fan, he loves to attend any sports events he can.
Zac is a native of Clay Center Kansas and received his Bachelor Degree in Education from Emporia State University in 2001. He spent the next 14 years as an educator, and he now advises for Pre-Dentistry and Pre-Physical Therapy students, as well as Life Science interdisciplinary degrees.

Email: malcoz@k-state.edu
Phone: 532-6904
Office: 107 Calvin Hall
Kaela Urquhart
Kaela joined the K-State Pre-Health Advising staff in February of 2016 after serving in a Student Success Capacity for three and a half years at the University of Saint Mary in Leavenworth, KS. She is returning to her alma mater as she holds two degrees from Kansas State University. In 2010 she earned a B.S. in Secondary Education with an emphasis in English, and continued on for her M.S. in Academic Advising, earned in 2012. She is an avid sports fan with her college team, of course being K-State, her MLB team being the Royals and her NFL team being the Cincinnati Bengals.
She has always enjoyed being strongly rooted in student support services and is excited to be a part of the Pre-Health team. She is here to help with advising support and preparation for applying and entering professional schools, and to be a positive resource for your success as a Wildcat.
Email: kaelaurquhart@ksu.edu
Phone: 532-6904
Office: 107 Calvin Hall
Eligibility Criteria & Application Information
Students must earn a bachelor's degree prior to admission to a medical school. Pre-med is not a major and there is no preferred major, so consider something you enjoy and are interested in.
In addition to completing a bachelor's degree, students must complete the core courses required by the medical schools to which they apply and score competitively on the MCAT. Strong applicants also shadow physicians in a variety of settings and are involved in community service.
Early and regular consultation with a premedical advisor is recommended
Relevant Tests
The Medical College Admission Test® (MCAT®) is a standardized, multiple-choice examination designed to assess the examinee's problem solving, critical thinking, and knowledge of science concepts and principles prerequisite to the study of medicine. Scores are reported in Physical Sciences, Verbal Reasoning, and Biological Sciences.
Almost all U.S. medical schools and many Canadian schools require applicants to submit MCAT exam scores. Many schools do not accept MCAT exam scores that are more than three years old.
For more information, go to: http://www.aamc.org
Relevant Links