Medical Laboratory Science
Medical laboratory science professionals (also called clinical laboratory scientists or clinical laboratory technicians) are highly skilled scientists who discover the presence or absence of disease and provide data that help physicians and other care providers determine the best treatment for the patient.
Although they are not often personally involved with patients, medical laboratory scientists and technicians play a crucial role in the process of providing personalized care. They generate vitally important data for identifying and treating cancer, heart disease, diabetes and many other health conditions.
Using sophisticated biomedical instrumentation and technology, as well as highly skilled manual techniques, medical laboratory professionals:
Examine and analyze body fluids, tissues and cells
Identify infective microorganisms
Analyze the chemical constituents of body fluids
Identify blood-clotting abnormalities
Cross-match donor blood for transfusions
Test blood for drug levels to measure the efficacy of particular treatments
Evaluate test results for accuracy and help interpret them for care providers
Medical laboratory technicians and clinical laboratory technicians have associate degrees, while medical laboratory scientists have baccalaureate degrees. Although some of the laboratory work performed by these professionals is the same, laboratory technicians focus on collecting, processing and analyzing biological specimens; performing laboratory procedures; maintaining instruments; and relating findings to common diseases or conditions.
Medical laboratory scientists perform these same tasks, but because they have a more extensive theoretical knowledge base, they conduct more advanced testing, such as molecular diagnostics and highly involved microbiological testing and cross-matching blood for transfusion. They also evaluate and interpret laboratory results, integrate data, solve problems, consult with physicians, conduct research and evaluate new test methods. Medical laboratory scientists also are more likely to advance to management positions." (Explore Health Careers)
Advisor: Gayla Adams-Wright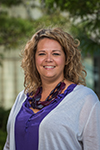 Gayla has been part of the K-State family since 2004 and has experience advising students across multiple areas, including: Medical Laboratory Sciences, Pre-Chiropractic, Pre-Veterinary Medicine, Pre-Optometry, Pre-Occupational Therapy as well as the Physical Science and Life Science interdisciplinary degrees.
She has a Master's degree is in Rehabilitation Counseling and is currently working on a Ph.D. in Counseling and Student Development. Originally from California, she has lived in Oregon, Missouri and Kansas.
Email: gayla@k-state.edu
Phone: 532-6904
Office: 107 Calvin Hall
Eligibility Criteria & Application Information
The Medical Laboratory Science (MLS) curriculum requires the completion of 90 credit hours (basic requirements and major requirements) at Kansas State and the completion of 30 credit hours of clinical training at one of two affiliated hospitals in Kansas City: North Kansas City Hospital or Saint Luke's Hospital of Kansas City. Both sites are NAACLS accredited. Admission into the clinical portion of the training is competitive and acceptance is not guaranteed. Students are expected to have a minimum grade point average of 2.5 in both overall coursework and the required science courses. After completion of all the requirements for the bachelor's degree in MLS, students are eligible to sit for the American Society for Clinical Pathology (ASCP) Board of Certification (BOC), which is the gold standard in certification for MLS professionals.
Relevant Links