Physical Science
The Physical Science Interdisciplinary major focuses primarily on the study of nonliving matter. It concerns itself with the theoretical and observable natural phenomena of our world and universe.
Cutting across a variety of Physical Science disciplines, it intentionally trades depth of learning for broader scope of inquiry. By offering more latitude in its curriculum design, it often allows students to prepare for less traditional or unique scientific ventures. It also occasionally serves as an undergraduate pathway to certain professional programs.
To best meet individual needs and interests, career goals and the requirements of the major, close cooperation with your advisor is highly recommended.
Program Requirements
You must meet the Basic Requirements of the College of Arts and Sciences to obtain an interdisciplinary degree.
37 credit hours are needed in the major. Including:
MATH 220
Analytic Geometry and Calculus I
4
STAT
One of these Statistics courses:
STAT 320, 340, 410 or 510
3
CHM 210 OR
CHM 220
Chemistry I
Chemical Principles I
4
5
CHM 230 OR
CHM 250
Chemistry II
Chemical Principles II
4
5
PHYS 113 OR
PHYS 213
General Physics I
Engineering Physics I
4
5
PHYS 114 OR
PHYS 214
General Physics II
Engineering Physics II
4
5
GEOL 100/103 OR
GEOG 220
Earth in Action & Geology Lab
Environmental Geography I
3/1
4
DAS 499
Physical Science Senior Report
(See description below)
1
Electives chosen from the following areas:

Computing and Information Science - 200 or above
Chemistry - 350, 351, 371, 500 or above
Geology - 100, 102, 103, 105, 500 or above but not 512
Geography - 221
Mathematics - 221, 222, 240, 510, 551
Physics - 122, 191, 300 or above but not 515
Statistics - 341, 511 or above
5-9
Problems, Seminar or Topics courses are not acceptable unless listed above. At least five elective hours must have a prerequisite. A "C" or better is required in all courses (including transfer work) prescribed for this curriculum (including electives). A 2.0 cumulative GPA is required overall. 124 hours are required overall for graduation. (Students who entered KSU before the fall of 2003 require only 120 hours for graduation).
DAS 499: Physical Science Senior Report allows individual exploration of an area of physical science culminating in a final formal report. This is the Capstone course required of Physical Science Interdisciplinary majors. Permission of the Physical Science advisor is a prerequisite for the course.
Advisor: Gayla Adams-Wright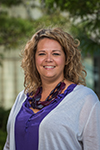 Gayla has been part of the K-State family since 2004 and has experience advising students across multiple areas, including: Clinical Laboratory Sciences, Pre-Chiropractic, Pre-Veterinary Medicine, Pre-Optometry, Pre-Occupational Therapy as well as Physical Science and Life Science interdisciplinary degrees.
She has a Master's degree is in Rehabilitation Counseling and is currently working on a Ph.D. in Counseling and Student Development. Originally from California, she has lived in Oregon, Missouri and Kansas.
Email: gayla@k-state.edu
Phone: 532-6904
Office: 107 Calvin Hall