Occupational Therapy
Pre-Occupational Therapy is a pre-professional program designed to meet the requirements for admission to the master's program at the University of Kansas Medical Center, the only occupational therapy program in Kansas. Students may transfer to KU after three years of coursework as a baccalaureate degree is not required for admission; however, students can complete a degree at K-State prior to transferring. Individual applications are selected on a competitive basis and completion of coursework does not assure admission to a school of occupational therapy.

Occupational therapy helps people improve their ability to perform tasks in living and working environments. It's a science-driven profession that enables people of all ages to live life to its fullest by helping them promote health and live actively with illness, injury or disability.
Advisor: Gayla Adams-Wright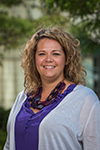 Gayla has been part of the K-State family since 2004 and has experience advising students across multiple areas, including: Clinical Laboratory Sciences, Pre-Chiropractic, Pre-Veterinary Medicine, Pre-Optometry, Pre-Occupational Therapy as well as Physical Science and Life Science interdisciplinary degrees.
She has a Master's degree is in Rehabilitation Counseling and is currently working on a Ph.D. in Counseling and Student Development. Originally from California, she has lived in Oregon, Missouri and Kansas.
Email: gayla@k-state.edu
Phone: 532-6900
Office: 113 Eisenhower Hall
Eligibility Criteria & Application Information
To be eligible for admission at the University of Kansas' MOT program, you must meet the following minimum criteria:
GPA and Grade Requirements
Grade requirements include an overall 3.0 cumulative undergraduate grade point average and a 3.0 admitting GPA, on a 4.0 scale. The admitting GPA is comprised of the grades earned in the prerequisite courses only. Information documented on student transcripts will be used to calculate all grade point averages. Consistent with University of Kansas policy, the admissions committee will replace grades of classes that have been repeated. Applicants must earn a C or above in all required courses.
Paid Work or Volunteer Experience with Individuals with Special Needs
Applicants must complete forty (40) hours of paid work or volunteer work that involves at least 50% of that time committed to working directly with individuals or populations with special needs. Hours must be accumulated over the last five years. Applicants can acquire the required 40 hours across multiple settings.
CPR/First Aid
All accepted students must submit copies of current, valid CPR and First Aid certification prior to the program start date. CPR certification must cover the entire lifespan (infant, child, and adult). Accepted students are responsible for maintaining current, valid CPR status throughout the duration of the MOT degree program.
Relevant Links