Graduation and Commencement
Fall 2018 Commencement
Saturday, December 8, 2018
Bramlage Coliseum
Parking: West parking lot
7:30 a.m. - Graduates assemble on Bramlage Concourse (enter through southwest doors).
8:30 a.m. - Commencement begins.
For a complete list of all Commencement ceremonies and start times, click here.
Important Deadlines and Information
Spring 2018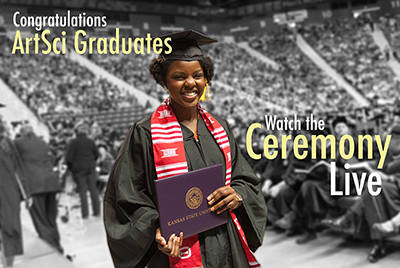 Graduation Deadlines and Timelines
Commencement Instructions (Registrar's Office), including: Guest Information, Parking and Accessibility, Academic Apparel & Commencement Checklist. PDF file available here
Diploma Distribution Information
Graduation Application Process (final semester)
NOTE: Students can begin submitting their application after the first day of the semester. It is best to submit your application as soon as possible in your final semester in order to ensure 1) your application is approved, and 2) that your name appears in the commencement program.
Faculty Diploma Presentation Application
Information about using your K-State eID after you graduate