From Oz to the land of the rising sun
By Scotland Preston
Communications Intern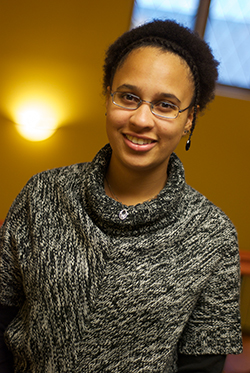 A love of languages and the Gilman Scholarship Program brought Khiana Harris, senior in anthropology and philosophy, to Japan for eight weeks in the summer of 2014. Harris studied at Ritsumeikan Asia Pacific University in Beppu, Japan, a program she chose primarily because of the language.
"Japanese is really interesting because it's easy to speak, but harder to read and write," said Harris.
Harris said she loves learning new languages and does it for fun. Her mom incorporated other cultures frequently when raising Harris, and they would go to restaurants, museums and other places to learn more about these cultures. The first language that Harris learned was French, and from there she discovered it wouldn't be very hard to learn others for her enjoyment.
After learning Japanese as a hobby, she began to question how she could pursue it further. The Gilman Scholarship gave her the opportunity to learn more about the Japanese culture and further her skill in speaking the language, by studying abroad in Japan. Harris describes learning a language as something that can take you anywhere. While in Japan, she met an engineer who was learning Japanese to work in nuclear power plants.
Although Harris had only been outside of Kansas twice, and never outside the Midwest, she said she didn't find Japan that much different than the United States and was nothing but excited about her trip.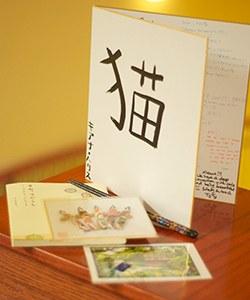 "Being born and raised in Kansas feeds into a yearning for elsewhere, as it can get pretty boring pretty quick," Harris said.
Harris now hopes her experience in Japan will help her into the Japanese Exchange and Teaching Program after graduating in May. This opportunity would allow her to teach English while also going to a graduate program for anthropology.
"Ultimately, I think I'd like to teach," said Harris. "Together, anthropology and psychology give you a more comprehensive world view, so it gives me a lot of options."
Harris is looking forward to wherever she may be placed in Japan, and eventually has the desire to see the entire country after such a great experience during her first visit. When she looks back at her trip, she highlights the group trip they took to a hot spring with about 50 other students, along with trying to ask directions to a native Japanese speaker who knew no English. She also said she loved the food.
"Chicken, noodles- it was all amazing," said Harris. "I tried sushi. I got sick, but I'll try it again."